THT MECHANICAL MUSIC BOXES,
SIDE TURN KEY MUSIC BOX MECHANISM ,
1) Key winding by side. Do not need to take the music box and key wind on the bottom, more easy to operate for some styles of music box
2) Same mounting positions as the standard 18 note model
3) Also share the tunes with the standard 18 note model, more than 800 tunes for selction.
4) If want to make your own songs, you need offer the music file, such as the MP3 file, MIDI file or STAFF, and the MIDI file is the best
5) Many diifferent styles and many different length of key for your selections.
POP TUNES,
Fur elise,Swan lake, Over the rainbow,Slient night,Yesterday once more.....
GUIDE FOR MAKINGH YOUR OWN TUNES,
1)Send us the music file(staff or mp3 , midi file is the best formate), 9~15 seconds music for this mini 18 note model .
2)Cofirming and developing according to your file
3)Send you a new midi file for your confirmation within a week(We may make some change as the characteristc of mecanism)
4)If confirmed,finish develoing. If not,discuss and continue to adjust
5)If ok finally,place order,and finish making a mould for the new tune with 3 weeks.
6)Cost,about 350usd included developing and mould.
WINDING POSITIONS COMPARISON BETWEEN SIDE WINDING STYLE AND STANDARD WINDING STYLE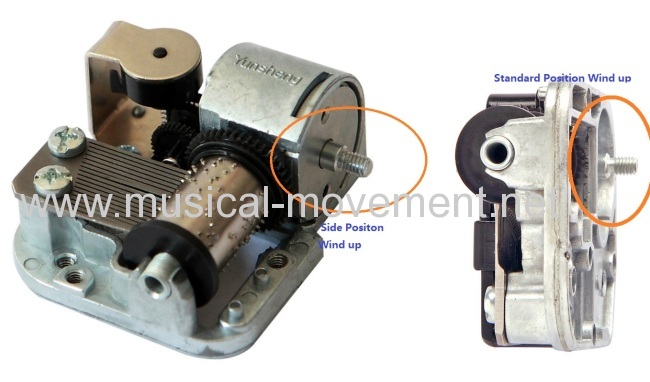 OUR WIND UP MUSIC BOX MOVEMENTS ADVANTAGE,
1)Most professional and largest supplier in the field of musical movement in the world.
2)Beautiful sound: We use special alloy for main parts, have proprietary technique on the core part Comb,and the mechanism smooth running on the correct tempo
3)More than 20 years improvement,Very stable quality and long service life
4)Low defect,may offer extra if large order
5)Existing more than 800 tunes for selection ,also be customized.
6)Stong production capacity,Deliver on time.
7)More safety,Pass related Environment protection and Safety satandard: i. e. RoHS, REACH, EN71 PART 1,2.3 and 2005/84/EC in Europe; Less than Detection Limit for contained lead in USA.