THT MUSICAL MOVEMENTS RESOURCE,FOCUS ON TRADITIONAL MECHANICAL MUSIC BOXES
DETAILS OF THIS MODEL,
Cuckoo clock music box movement, 37 note mechanism with one shaft, for one day 8 day wooden cuckoo clock. The classic tune, Edelweiss.
And Custom tune is also ok.
APPLICATIONS,
As a high quality precison mechanical music movement,used for the musical cuckoo clock,such as the antique musical cuckoo clock,German black forest musical cuckoo clock,Classic traditional musical cuckoo clocks,Chalet swiss musical cuckoo clocks,Modern musical cuckoo clocks,Quartz battery musical coo coo clocks,Mini German musical kuku clocks.
NAME OF CUCKOO CLOCK MUSICAL MECHANISM PARTS,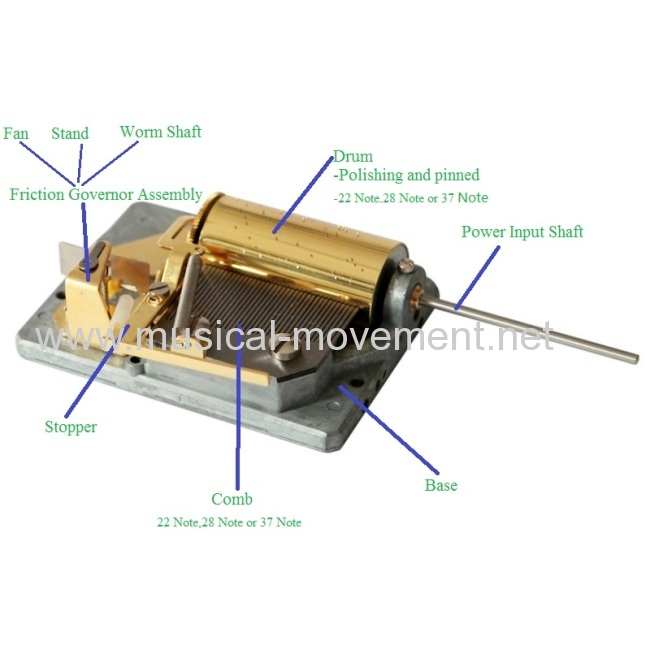 OUR PRODUCTS,
1)Most professional and largest supplier in the field of musical movement in the world.
2)Beautiful sound: We use special alloy for main parts, have proprietary technique on the core part Comb,and the mechanism smooth running on the correct tempo
3)More than 20 years improvement,Very stable quality and long service life
4)Low defect,may offer extra if large order
5)Existing more than 800 tunes for selection ,also be customized.
6)Stong production capacity,Deliver on time.
MUSICAL CUCKOO CLOCKS MUSIC MECHANISMS LIST,
> 22 Note Cuckoo clock musical mechanism 1 Day
> 22 Note Cuckoo clock musical mechanism 8 Day
> 28 Note Cuckoo clock musical mechanism with one axle
> 37 Note Cuckoo clock musical mechanism 1 Day
> 37 Note Cuckoo clock musical mechanism 8 Day