THT MUSICAL PRODUCTION, JUST FOUCS ON MECHANICAL MUSIC BOXES,

- WASHABLE CLOCKWORK PULL STRING MUSIC BOXES
- Main Structure and Material
* Pull string music box mechanism, ABS Shell case, Waterproof case, Pull-string wheel
* Material, Alloy, Steel, Plastic, Rope
- Music Feature
1)Standard size 18 note clockwork musical movement inside
2)Unique technology on the core part - COMB, Top sound quality.
3Many baby songs for selection, Brahms Lullaby, La Le Lu, Mozart Lullaby, Arthur Theme, Robert Cat, Schlaf Kindchen Schlaf, Rock A Bye Baby, Schubert Lullaby .....And also rich popular songs for selection, FUR ELISE, OVER THE RAINBOW, EDELWEISS, ENDLESS LOVE, FLY TO THE MOON, HAPPY BIRTHDAY TO YOU, EASTER PARADE, IMAGINE, LA FLUTE ENCHANTEE, LA VIE EN ROSE...
4)Accept to custom made your own tunes
- Protective Feature
The musical movement is covered with a square shell case, The shell case can protect the movement when the pull cord musical movement is inserted into plush stuffed toys or dolls.
- Washable Feature
Ultrasonic welding process, waterproof shell case, can be machine washed but should in inserted into toys, not be alone
- Special Safety Feature
Ultrasonic welding process, stronger than common model, better dropping performance.
- Play Power
Spring power, Handle by Pull string
- Size
55x49x32mm
- Safety Standard
Europe Safety standard, RoHS, REACH, EN71(PART1~3) etc. and US standard.
MORE INFORMATIONS
* OUR PRODUCTS STRENGTHS
1) Beautiful Sound,
We use special alloy for the main structure, have proprietary technique on the core part - Comb, to make sure the mechanisms run smoothly on the correct tempo and sound well
2) Lower defect rate , Stable quality
Working in the field of clockwork musical movement more than 20 years, many times correction and improve, now under ISO9001 Quality Management Systems and the products are made by the special Musical Movements Automatic Assembly Line.
3) Longer service life
We use special alloy for the main structure, Top quality for the accessories and High-precision gears
4) Safety
Pass Europe EN71 safe standard, RoHs, 2005/84/EC and US safe standard
5) Delivery in time
Strong production capacity make sure deliver in time.
* ATTENTIONS
Our company reserves the right to update the products without prior notice, so please confirm with us before you place an order.
* HOW TO ORDER
1)Off-line trading, communicate and place order by email
2) Make sure to specify the following details when ordering
** What is the Model number you want?
** What are the tunes you want?
* * What is the type and length of the keys or other attachments if you need
** Other personalized requirement
** MOQ, usually 3000pcs per order and can be 600pcs per tune
3) Small personalized order.
We do it, but cost will be raised
4) Large order
Better price for More large order quantity,
*PULL HANDLE OPTIONS,
- Ball handle washable pull string music box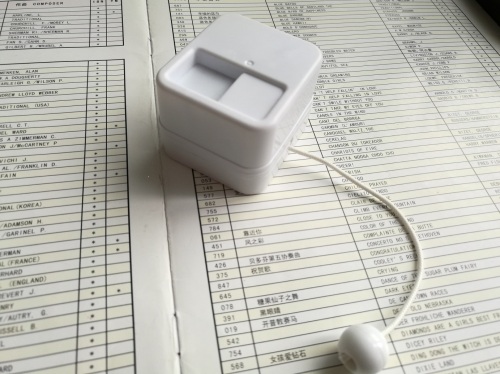 - Ring handle washable Pull string music boxes
- Coin knob washable pull string music boxes
*MUSIC BOX HOOK OPTIONS
With or without hook
*SPECIAL SAFETY FEATURE
Ultrasonic welding process, stronger than common model, better dropping performance.